Innovation for a problem that doesn't exist?
Frankfurt's on-demand bike rental services are everywhere. Literally.
On a recent trip to Frankfurt you couldn't help but notice the abundant supply of on-demand bikes.
Supplied by no-less than 4 different bike hire businesses, including Germany's Byke, Deutsche-Bahn, Singapore's OBike and Visa-Frankfurt collaborative partners.
The bikes were available throughout the city, often found in 'groups' around key areas, followed by the odd one strewn in very odd locations. But one thing was clear - no one was riding them. Now I appreciate I was visiting in a cold December, but I did't see one person, not one!
So it asks the question, is this true innovation or solving for a problem that doesn't exist? All of them work on slightly different technology, but all based around using your mobile to locate the bike to then 'simply' unlock and ride.
In London, I am a frequent user of the 'Boris' bike in partnership with Santender. It's a great service, in part, because I know where the bikes are and I can check ahead to see how many are there - in a sense knowing that there will be one available when I want to use one. But surely you don't get this with bike sharing - you never know whether the bike you left earlier will be in the same place as you left it before - am I missing something?
London has seen it's fair share of on-demand bikes - including OBike.
oBike is Singapore's first homegrown stationless bicycle-sharing system with operations in several countries. The bikes have a built-in Bluetooth lock and can therefore be left anywhere at the end of a journey, not just at a docking station. Users use a smartphone app to locate and hire bikes. It launched in Singapore in February 2017 and has since expanded to 12 other countries: Taiwan, Korea, Malaysia, Australia, Thailand, Germany, Austria, the Netherlands, Belgium, Italy, the United Kingdom, Switzerland and Sweden.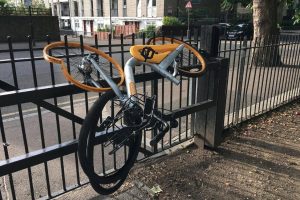 In July 2017, OBike was accused of littering as it literally 'dumped' 1000's of bikes across London boroughs, without consulting any of the local councils. With local authorities accusing the operator of operating like Uber - arriving and dealing with them at a point in the future.
After 400 were put on the streets of Hammersmith and Fulham, the borough said it could not get hold of the firm and resorted to tweeting it. Officials issued highway obstruction notices and the bikes were removed.
On my visit to Frankfurt, I have to say, it certainly didn't add to the city, their bright colours obviously designed to stand out, but often looking pretty ugly against the city backdrop.
But the question remains, with such a low-value item and in developed cities where infrastructure already exists, what is it's purpose? Is it really disrupting the way we travel? If financial performance is anything to go by, then I might not be the only one to question the model.
I am all for innovation & making lives easier, but sometimes entrepreneurs solve for problems that don't exist.